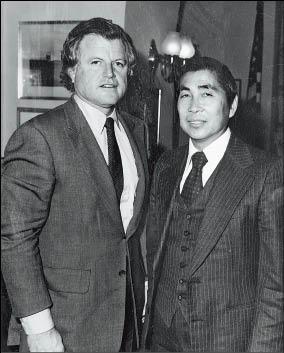 For Immediate Release
Washington DC – January 10, 2014
Contact: (202) 547-3686
Trong Chai – A Pioneer In Taiwan's Democracy Movement And A Founding Father Of FAPA Passes Away
"It's a sad day for all of us at FAPA and a sad day for Taiwan's democracy and independence movement," said FAPA President Dr. Mark Kao today upon the passing of Dr. Trong Chai.
"A great Taiwanese life has come to an end. Trong Chai won Taiwan's respect with his pioneering initiatives, and the respect of the United States Congress in particular and of the American public in general for his determination and conviction to make Taiwan a better place. That is his greatest legacy."
Born in 1935, Chai came to the United States to study, and received his Ph.D. from the University of Southern California. He subsequently became a professor of political science at the City University of New York.
Together with Professor Peng Ming-min and Dr. Mark Chen, Dr. Trong Chai was one of the founding fathers of FAPA and became its first president in 1982.
After returning to Taiwan in 1990, he became a member of the Legislative Yuan for the DPP between 1993 and 2008 representing his hometown of Chiayi.
He founded the Association for a Plebiscite and Formosa TV.
"To many of us at FAPA he was a personal friend and a role model," Dr. Kao continues. "We campaigned for him during his LY races. We handed out leaflets. And we made phone calls on his behalf."
"Dr. Chai would visit FAPA HQ every time he was in Washington. We at FAPA fondly remember stories told to us by Congressional aides that Chai would challenge in a push-up contest whenever they would visit Formosa TV in Taipei."
"Now, his stay on earth has ended, a long and eventful journey that helped shape Taiwan's democracy," Dr. Kao concludes.
---
Former chair of the House Foreign Affairs Committee, Rep. Ileana Ros-Lehtinen (R-FL) reacted as follows:
"As a lifelong friend of the people of Taiwan, a friend of Taiwanese Americans, and a founding member of the Congressional Taiwan Caucus, it saddens me deeply to hear about the passing of Dr. Trong Chai today.
Dr. Chai was a patriot and true leader of the people of Taiwan and a familiar face to many of us on Capitol Hill, where he would often meet with Members of Congress to discuss the importance of freedom and democracy in Taiwan.
My thoughts today are with his family and with the many Taiwanese Americans and Taiwanese who, like me, considered him a friend. We will all miss his talent and dedication to fighting for a free and democratic society on behalf of the people of his beloved Taiwan."
---
台灣民主先鋒、台灣人公共事務會創會會長-蔡同榮先生逝世
台灣人公共事務會會長高龍榮博士,今天對前會長蔡同榮博士的逝世表示哀悼:「今天對台灣人公共事務會全體會員,以及台灣獨立民主運動都是哀傷的一天。」
「一個偉大的台灣人走到了生命的盡頭。蔡同榮博士致力於讓台灣成唯一個更好的國家,這個民主先鋒的精神,贏得了台灣人,以及美國國會及人民的尊敬。這是他所遺留下來最大的資產。」
蔡同榮博士、彭明敏教授,與陳唐山博士等人一同創立了台灣人公共事務會,並於1982成為其第一任會長。
蔡博士於1935年出生,並於南加州大學取得博士學位,隨後成為紐約市立大學的政治學教授。
蔡博士於1990年返台,並於1993年代表民進黨競選立法委員。當選後的蔡博士從1993年擔任嘉義市立委一直到2008年卸任。
蔡博士同時也創立了公民投票促進會以及民間全民電視公司(民視)。
高博士表示:「對台灣人公共事務會的許多人而言,蔡博士是我們的楷模,也是好友。我們在他競選立委時為其助選、發宣傳單,並打電話拉票。」
「每當蔡博士造訪華府的時候,都會造訪台灣人公共事務會總部。我們也記得國會議員助理常跟我們提到,每當他們拜訪台北民視總部時,蔡博士都會與他們軋伏地挺身。」
高博士總結道:「如今,他一生幫助台灣實現民主的精彩旅程已走到了終點。」